Wind Turbine Repair and Maintenance
Our engineers cover the whole of the UK and are on call to assist with any Wind Turbine Repair and Maintenance issues, breakdown or servicing requirements that you may have. As we are independent we have expert knowledge of a large range of renewable energy products and systems used in the country, enabling us to provide support to all kinds of customers.
All of our engineers are fully qualified and hold current BST GWO/ Renewable UK Work at Height and Rescue (WAHR) certificates.
Trusted Company
We work with a range of wind turbine manufacturers who recognise our expertise in providing the high level of service that good quality manufacturers demand. For example, Northern Power Systems from the USA asked our team to travel to America last year to study and obtain their 'Operations and Maintenance – Advanced Technician Level 2′ certification. We highly recommend Northern Power Systems wind turbines, and have worked on a lot of UK installations of these reliable machines. We regularly carry out Wind Turbine Repair and Maintenance work on a vast number of different types of machine.
We are proud to have an increasing portfolio of customers that own Argosy wind turbines. Unfortunately owners of these machines have experienced faults and breakdowns since their installation. As the manufacturers no longer exist (due to closure of their business), these customers have found it difficult to find the right company to call in to get their machines producing energy once again. SJ1 Renewables have provided confidence to these customers by always being on call, and able to find faults and fix the turbines quickly and effectively.
Another American company purchased the rights to the design of the Argosy machine. SJ1 Renewables have an agreement in place with this company which means they provide remote support and assist us to diagnose problems with these machines rapidly.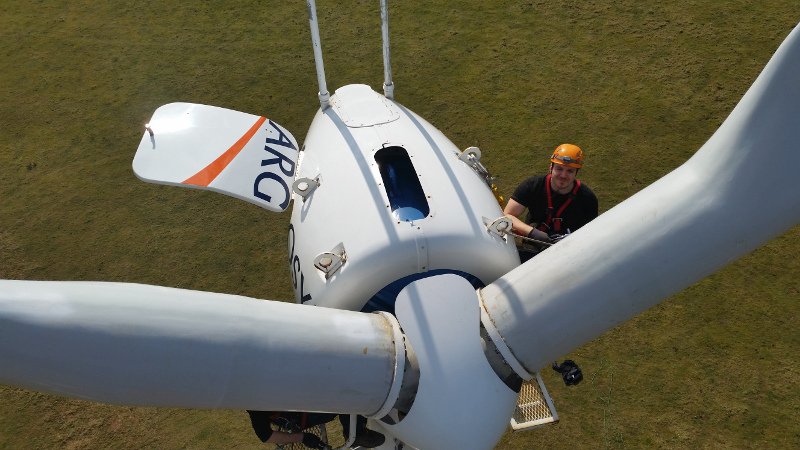 SJ1 Renewables are experienced in wind turbine repair, servicing and maintaining on many types of turbine, if you have any Wind Turbine Repair and Maintenance requirements, please feel free to contact us for a discussion.