Renewable Energy Blog by SJ1 Renewables
Please read our Renewable Energy Blog and feel free to share any of our articles. You can also follow us on social networks and use our RSS feed on the links to the right.
This our renewable energy blog, a place where we share news stories and information on interesting and exciting developments in the world of renewable energy.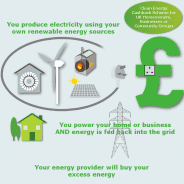 The major driver for growth in renewables has been the feed in tariff which is soon coming to an end. The question is, "where do we go from here?" As it stands, the answers to this question are unclear at best and the worst case is a renewables sector which stagnates, with little in the way of new advances. Faced with this stagnation, many business that have developed to serve this sector will either have to down scale or go out of business, a real back step after so many gains in the world of renewable power. The UK government has made clear...
read more